Photos
Filming for BBC Escape to the Country,
Historic Dockyard, Portsmouth, 21 August 2018

We were on board the magnificent HMS Warrior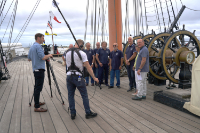 Recording on deck

Singing out for fun on the gun deck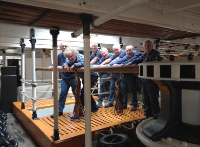 At the capstan bars

Hoping for a tot of rum
The Queen God Bless Her!
Helping launch 100x30 second Shakespeare verses streaming/CD, Alley Cats Club, Denmark Street, London, 4 August 2016: see Recordings

Matthew clarifying the lyrics for the benefit of the audience!
Helping BMT Nigel Gee celebrate 30 years of engineering excellence, Southampton, June 2016
With lovely Alice!
At The Centre for Reflection, Aston Tirrold, Oxfordshire, May 2016

On Hayling Island to sing at a wedding reception, 11 July 2015

with 2 men too few
To the Isle of Wight on Mara, 1 September 2014
Pirate party July 2014

Cap'n John with his favourite squeeze
Recording Take a Turn Around The Capstan, 2014

Shantymen in Shakespeare's 'The Tempest', Alton Maltings, June 2013

Roger, Nick, Don and Mike - preparing to tread the boards - they should have made 'em walk the plank!
RNLI Concert, Alton Maltings, March 2013

with all men present
Alton Beer Festival, February 2013

Wedding Singers! St, Andrew's Church, Farnham, September 2012

Conford Village Hall 28 April 2012 - RNLI Benefit
Civic visit to Pertuis, France, December 2011

' allo, 'allo - extending the hand of friendship
Shanty Sailing Trip, June 2011
The wind set fair

John, Don and Simon

Nick at the helm

A common sight - Roger with an empty plate in front of him
Public Gardens, Alton, 8 May 2011

some opine this is the best photo of us you could get
Farnham Maltings Festival, 15 May 2011 - Pictured in Farnham Herald

Nick, John, Roger and Don
RNLI Concert - 26 March 2011
We were proud to receive this certificate from the RNLI
Celebrating Alton - 12 November 2010, with all hands present
Headley Fete - September 2010
Photo Credit: Katie Hill
We made the front page!
The Lazy Bishop Festival, Farnham - May 2010
Photo Credit: Katie Hill
Farnham Castle - 2009
The Golden Pot - 2006